EMDI Ordering is a powerful focusing program, a complete solution for ordering, table management and e-catalog for ios and android devices, ideal for restaurant, bar, cafes.
WIRELESS ORGANIZATION. THE BENEFITS OF INDICATIVE:
– Delivery of orders in the manufacturing premises – Automation and organization of food dispatches – Organization of tables and waiters – Better control and supervision
SIMPLER THAN EVER!
EMDI Ordering iOS – Ordering ANDROID is a simple and at the same time very powerful and easy to use program that you can literally handle with one hand, making waiter's work easier.
Even for installation, you do not need anything special. With a simple smartphone where the application and a thermal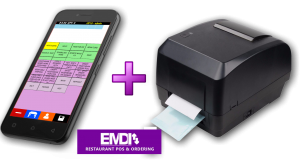 printer are installed you're ready to get started!
There is also the ability to create and export reports and charts as well as manage the warehouse for product tracking.
RENT
The rent is paid via a bank account, credit or debit card and paypal. If the current rent is not paid, the program automatically locks and you can not use it. When money is deposited, the program unlocks. Support and new releases are included in the rental price.
SUPPORT:
Annual support is optional and includes remote support for the program and the right to upgrade to all its new releases. In the event that the customer chooses not to pay it, any support that is done by telephone is priced according to the type of work and is done only after the client has deposited the money. The program is not locked even if the annual subscription is not paid as long as the customer informs us that he does not want to have support and new releases.
Annual support is mandatory in the event of an EMDI connection with a courier company.
When a customer does not pay the annual subscription fee and need support, there are two cases:
1. The customer will be charged for all unpaid annual support (if more than 3 annual support subscriptions are pending, there is a 40% discount on the initial cost of the subscriptions). In this case, it is also entitled to upgrade.
2. The customer will be charged whatever amount is agreed per incident (for example: base correction 60 euro, backup recovery 60 euro, transfer of program to another computer 60 euro, print invoice 30 euro etc.). In this case he is not entitled to upgrade
FOR ALL THE ABOVE:
It does not include the cost of installation, customization, but also the design of the display up to a document according to the customer's requirements, which is 60 Euros and is made remote. EMDI already has built-in standard forms for printing forms. For installation at the customer's premises the minimum charge is 120 Euros with a maximum duration of 2 hours. Every extra hour is charged with 60 euros.
Each additional license, costs 50% of the original.
Prices do not include VAT.